---
The 11th Emoti-Con Challenge was our Biggest Ever
On May 11, over 350 teens, educators and industry professionals met to share 60 creative technology innovations at the Eleventh Annual Emoti-Con NYC Digital Media and Technology Challenge in the Celeste Bartos Forum of the New York Public Library.
Emoti-Con is New York City's biggest showcase for young people who believe in innovation as a tool for positive change. This year's event had almost double the number of project teams presenting teen-designed prototypes of games, apps, assistive technology, VR, wearable tech, podcasts, music, robotics, and more. Check out every project from 2019 here.

Emoti-Con is designed, organized and hosted by young people. The Aluminati, a group of Emoti-Con Alumni, help lead the planning committee to design and run the event. High school students from Parsons joined the Emoti-Con Design Fellows program to create the theme and all of the visual imagery and Global Kids Emcees, a group of high school students from across the city, designed the stage show and hosted the event.
Who are the Presenters?
Project teams represented STEM & Design programs at NYC Public Schools and youth-serving organizations within the Hive NYC Learning Network, including the 30th Avenue School, Academy of Innovative Technology, Automotive High School, Beam Center, CS4All NYC, Careers in Sports High School, Code Nation, Community Math & Science Prep, CUNY, DreamYard Design League, EYEBEAM, Games for Change, Global Kids, Grand Street Settlement, Halsey Middle School, Information Technology High School, The Island School, John Adams High School, M.S. 390, Manhattan East Middle School, Mark Twain I.S.239, Marsh Avenue Expeditionary Learning School, Mouse Design League, Nano Hackers Academy, New-York Historical Society, New York Public Library, P.S. 096 Joseph Lanzetta, P.S. 109, PiLaCS, Redwood Middle School, ScriptEd, STEM from Dance, Student Success Network, and Transit Tech High School.
Highlights from Emoti-Con 2019
Before we announce this year's winners, here are a few of our favorite moments from the day. Check out the full agenda here.
-----
Crossroads Bridge Building: The Aluminati lead the team make challenge.
Pitch Perfect Judge Demos: 12-year-old maker, public speaker & Emoti-Con judge, Bianca Lewis (@BiaSciLab) shows off her new "Girls Who Hack" project
The 11th annual Emoti-Con Project Fair: 60 middle & high school project teams compete from across NYC.
Emoti-Connect Future Pathways: Judges separate into creative technology groups by field, and answer questions from students about their own pathways to education and career.
Keynote Speech: Catt Small shares her newest game and her journey from NYC public schools to a career in product & game development.
Art Installation: The Emoti-Con Design Fellows team leads an interactive art installation along this year's theme of migration.
And now announcing the 2019 Emoti-Con Project Fair Winners!
Check out all of this year's projects here.

Point Of View Award: "Flows through Music" (Global Kids @ P.S. 096 Joseph Lanzetta)
"We, students from Global Kids at PS 96, have been creating and writing songs about different global issues, including the lack of access to safe drinking water in schools. We explored and learned about other places in the world where young people are facing lack of access to clean water and how this impacts communities on a larger scale. Our final digital presentation is a multimedia experience that includes a mix of text, video, and images drawn and edited by students to accompany an original song. It is an informative music video that we believe many young people can relate and connect to."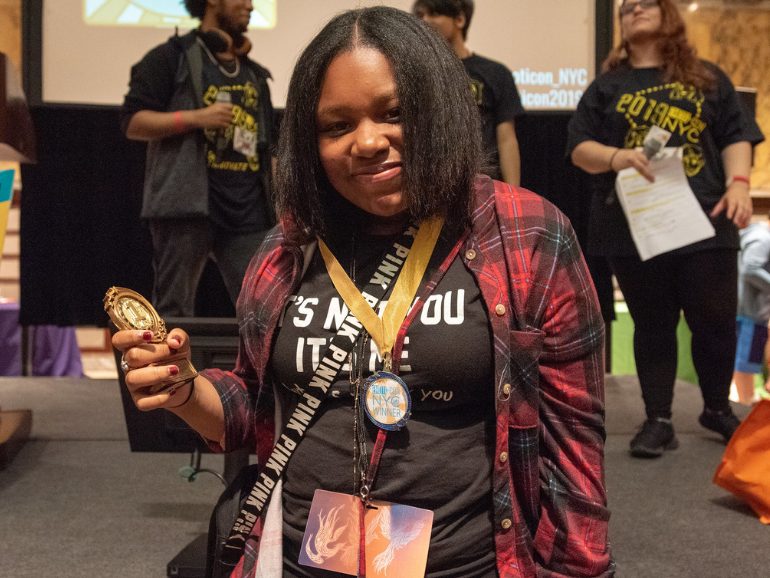 Most Social Impact Award: "I Tried" (The Island School)
"This is an original song by 7th grader Kayleen about rising above depression and suicidal thoughts. While a fictional account, it remains no less haunting. It was recorded and edited using SoundTrap and Garageband with a beat purchased from Edobe. The table will feature laptops connected to the song on SoundCloud."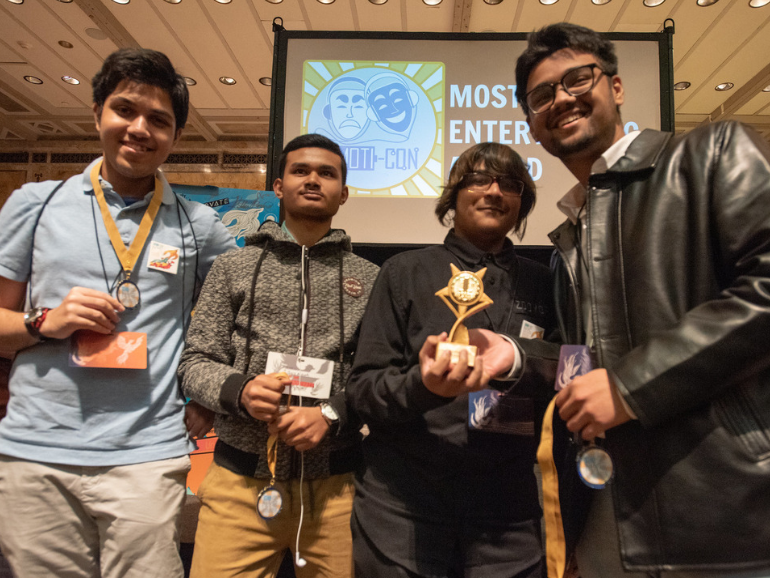 Most Entertaining Award: "Project Xeno" (Mouse & CS4ALL @ Information Technology High School)
"Our project is a game developed in Unity. It is called Project Xeno and is an RPG genre game. It was inspired by the topic of automated communities and what the world would look like in 2050. At the project table you should you should see a visual representation of this game and be able to play it as well. It was developed by hard work and dedication on creating cutscenes as well as RPG styled gameplay. Since it is in demo version, it may not have too much to offer, but what it does may interest you…"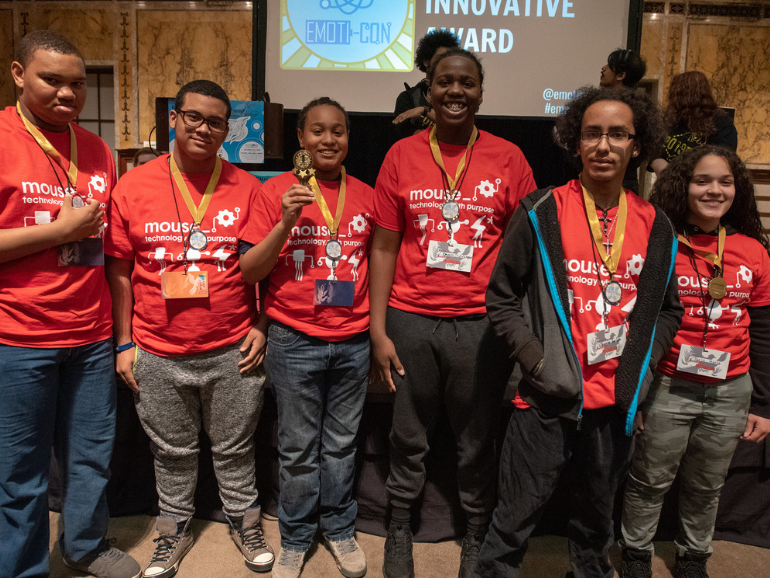 Most Innovative Award: "0woe: Oh-Whoa!" (DreamYard Design League)
"Our product, 0woe, is a 3d printed device created to make catching a basketball easier for people with limited hand dexterity."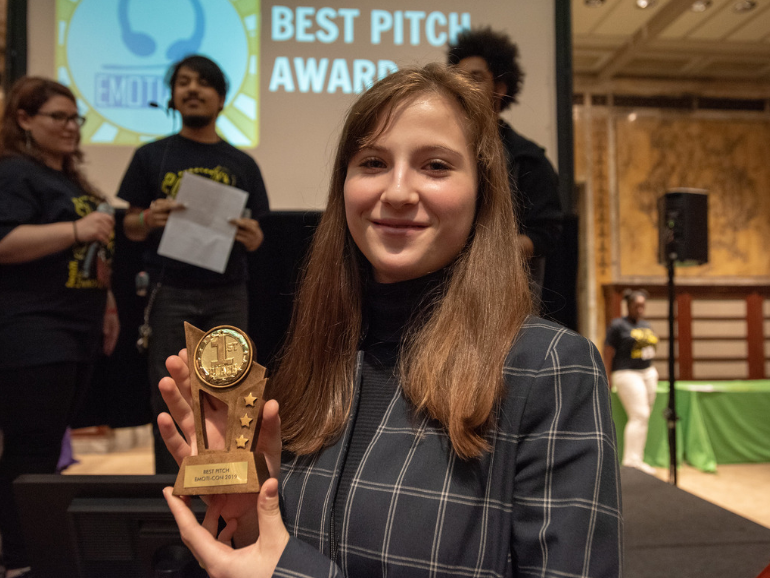 Best Pitch Award: "The Fields: Clothing for the Modern Farmer" (EYEBEAM)
"I am presenting fashionable clothing that helps make farmer's daily work life more sufficient. I appreciate how they create and sell their own goods, and I value the hardships that farmers go through to produce a final product. On my project table there will be pictures of my research, the process of developing a prototype, and the actually final prototypes. My focus was on making breathable, comfortable clothes that are helpful to farmers as they are working"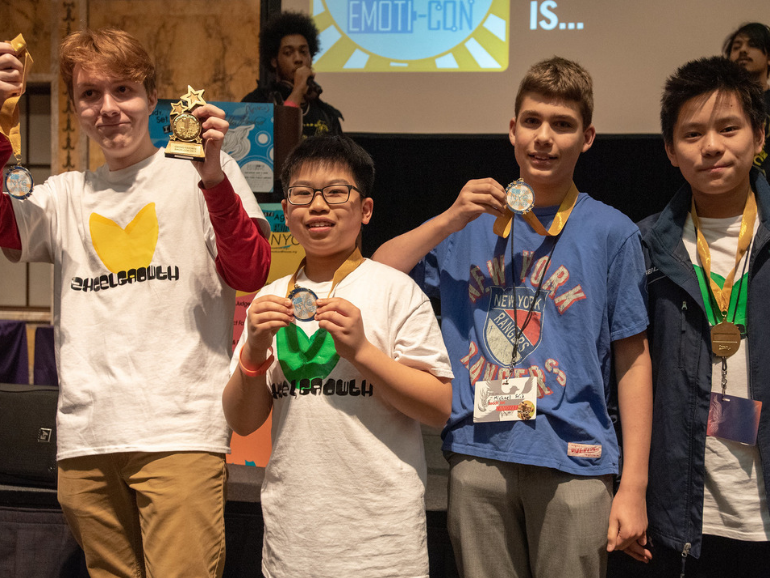 Crowd Favorite Award: "Excel Growth" (Mark Twain I.S. 239)
"We created a project called ExcelGrowth, which uses Discord. Discord is a chat platform. It was originally a platform for gamers, but over time, it has evolved into a diverse site, in which those with similar interests can excel, hence the name. The people of interest for us at the moment are those who want to learn, but are struggling from boring lessons. We created a Discord server where users can connect and learn from one another. We also used JavaScript to create a bot that could help you and quiz you. However, ExcelGrowth is not just a bot. ExcelGrowth is a diverse learning community."
Emoti-Con 2019 Honorable Mentions
"Fractal Mycology" (Beam Center): "Everything is connected. Mycelium are abundant; you are inhaling spores as you read this. Without them, life as we know it, is impossible. They are resilient, adaptable, and incredible communicators, networking in structures similar to the internet. Genetically speaking, they are closer to humans than plants. By using mycology as a metaphor for our collective development as makers, facilitators, leaders, and citizens, we've discovered humanity has much to learn of its nature by observing these life forms.
"Blood & Alcohol" (Global Kids @ Art & Design High School): "Everyone hears drinking is bad. Does anyone really know why? Here is a presentation made in Twine on the effects of alcohol, the relationship it has with your body type, and some interesting ways to test intoxication."
A big THANK YOU to...
Most importantly, a huge shout-out to everyone who joined us at the Emoti-Con 2019! Thanks for an incredible day celebrating technology and making change in our world. Visit emoti-con.org or Follow @EmotiCon_NYC on Twitter to learn more.